Do You Have A Communication Project We Can Help With?
Effective communication strategies and well thought out plans can inform and engage internal audiences, lead to increased productivity, drive behavior change and inspire your workforce.  The world of communications is continuously evolving. Delivering meaningful messages to the right audiences at the right time in a way that is meaningful to them, can be tough.  We support our clients by crafting impactful communication strategies that inform, engage and inspire.
We know that benefits are important to employees, but many don't fully understand what they have available to them or how to maximize their use. A well-designed communication program will help employees understand medical plans, wellness offerings, work/life programs, and other benefits – and allows them to see the value you provide plus make educated decisions about how to use them.
Every organization must change over time – to adjust to the marketplace, to capitalize on new ideas and technologies, or to make improvements. But people don't like change. There's no way to eliminate discomfort during times of change – but the right change management strategy can help people navigate thoughtfully through it. A thoughtful change management communication strategy ensures that organizational change is effectively implemented.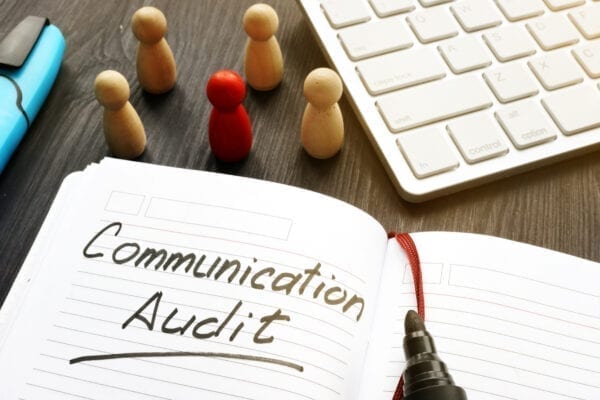 Inform. Engage. Inspire.
Over time the needs of your external and internal audiences may shift or change. Organizations should consider adjusting communications plans and strategies to communicate in the most efficient and effective ways. An audit is the best way to highlight strengths, uncover weaknesses and shape future content strategies and tactics.
A thorough communications audit might involve:
Observing employee behaviors and interactions with current communication vehicles
Talking to employees and leaders about how they gain and use the information you share
Completing a demographic evaluation of your workforce
Reviewing recent engagement data, you have collected
Evaluating current communication channels and employee behaviors with them
Conducting communication planning workshops
Tracking questions employees ask during town hall meetings to identify key themes
An audit can help you establish or refine:
Employee communication objectives and goals
How employees prefer to receive critical information
Strategies most effective for your organization
Current opinions about internal content and delivery systems
If your current system supports business goals
Employee communications opportunities
Compensation programs can be complicated. Helping employees better understand bonus programs, incentive compensation, stock option plans, and executive compensation will help you retain and motivate your workforce.
Enhancing organizational communications about CSR initiatives to internal audiences is vital to its success. We help carefully craft social purpose messaging to help you share your story. CSR activities and its communication can improve reputation, attract great employees, facilitate employee commitment, increased retention and engagement.
When a crisis occurs, the need to communicate is immediate. Having a strategic crisis communications plan in place allows you to respond quickly, confidently and accurately. We collaborate with you to build a plan that will help control the message and successfully regain trust.
Corporate culture is a statement of identity and often changes naturally over time. When a culture shift is needed in a non-organic way, pulling off that change successfully can be tough. We partner with you to build a comprehensive communication strategy that will help shape the culture beneath it.
Communication plays an essential role in helping employees understand how the work they do makes a difference. We develop communication strategies and tactics that motivate and inspire employees by expressing appreciation for their accomplishments.
Employee engagement strategies have been proven to reduce staff turnover, improve productivity and efficiency, retain customers and increase profit. Engaged employees are happier, both at work and in their personal lives.
Leadership changes and transitions are common – and how you share the news with stakeholders, especially internal employees, is extremely important. Change can be scary, and it is crucial to ensure your employees understand what's happening, how it will impact them and the organization, and how the transition process will take place.
Every initiative – regardless of its size or complexity – requires a solid communication strategy. We help you build a communication strategy to ensure that you are communicating in ways that work for your audience and that will keep them informed and engaged in the initiative.
Mergers and acquisitions can be stressful and complicated. Communication becomes the glue that holds all pieces together that are needed to have a successful transaction. Clear communication informs your employees throughout the process and transparency instills trust.
In need of part-time communications support? Looking for an economical way to manage your organization's communications needs? Let us become your onsite communications (CaaS) department.
From small family-owned businesses to large global organizations many of our clients need additional communication support for a variety of reasons. From maternity leave coverage to special initiative support, special events, or coverage between employee hires we are here to help.
Our efficient, flexible, cost-effective, onsite support is tailored to be what you need when you need it for:
Internal Communications

Strategic Communications

Executive Communications

Public Relations

Social Media

Event Planning & Management

Crisis Planning & Management

Content Creation

Smart hiring strategies coupled with clear communication attract high-performing employees. We are here to help you craft a compelling story about your mission, benefits, and culture that will set you apart.
Our Clients Say
"I have worked with Compensation Works over the last 15 years in various capacities and across several challenging projects. Their professionalism, confidentiality, prudence, and just overall great advice have always been exceptional."
-President
Investment Solutions Company